Accommodations
Rustic charm meets upscale amenities
Our cabin tents, centrally located, are set on raised platforms and are havens of comfort, thoughtfully decorated to create a casual yet charming coziness. Rugs cushion your soles and restful beds lay in wait…
Each of the four guest tents are decorated uniquely and have their own western flare celebrating local wildlife, streams and rivers, wildflowers and cowboys. Let us arrange a tent to accommodate your family or up to 4 guests with a queen bed and bunk beds.
Good-natured simplicity, our vault toilets, are kept clean and sweet smelling and well supplied with reading material. Chamber Pots are discretely placed in each tent for middle of the night necessities.
Hot Showers
Hot water, fluffy towels, and privacy portray our shower room. Enjoy a long hot shower after your day's adventure.
Soothing Soak
Escape to the wilderness to find yourself again. Soak in our tub until your muscles are melted into voluptuous repose as you are soothed by the sounds of the nearby creek and lost in the tranquility and peace of the sun-dappled shade.
Glamping Gallery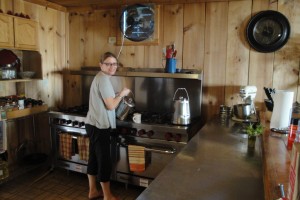 The Kitchen
The Kitchen provides a warm and inviting place for a cup of coffee or glass of wine, and a good conversation. You'll enjoy your meals here where gourmet cuisine graces a casual dining table.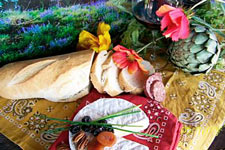 Picnics & Appetizers
Picnics are prepared for your day adventures such as horseback rides, fishing, photography tours, etc.
Guest Reviews:
"The food, riding, hiking, accommodations, and entertainment, All were fantastic!  We've made some great memories!"  -Kaye and JR
"Just a big "Thank you" from all of us to all of you!  We had a wonderful time with our first experience with our first time of Glamping.  The food was outstanding and we were treated like royalty.  Your team is great and they aim to please."  -The Thomas Party
"Steve and Lorrie, Thank you so much for the "retreat".  Everything was so much more than imagined.  This has been the most R&R that we've had in quite a while.  How nice to spend it on our 20th Anniversary!"  -Dawn and Gary
"I just wanted to send a short note and say "Thank you" for a wonderful weekend!  Our only regret is that we only stayed one night instead of two!"  -Ryan and Robin
"Thanks so much for the great experience! Enjoy!" -Mike and Adawna
"We had a wonderful time Glamping.  Everyone was so pleased and had a terrific time.  Enjoyed the horses!" –Lynn